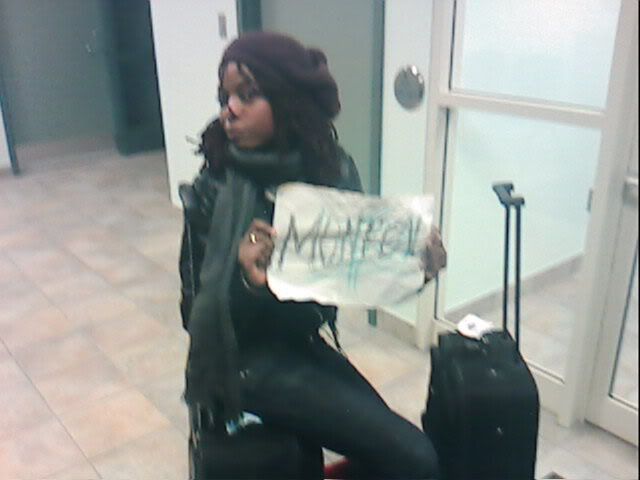 (this was posted late--it all happened on wed dec 26th)
The last 48 hours of my life have been something to blog about to say the least.
It started on wed-- i was supposed to take the train but then canceled it to take a carpool instead (this would later be the first of many bad ideas)
i decided to car pool because my train would have arrived in MTL to soon for me to have a spot to stay--and to change the train to a later time would cost me more money-- FUCK !
so i get into this van with like 7 other people -- i felt like a refugee crossing the US border illegally- ! after an hour of driving outside of toronto--
all of a sudden the car starts to swerve and theres smoke coming out the front right tire (im thinking to myself...no im supposed to go out with bigger bang..like stampeding the white house...or stalking jonny dep- this cant be it!
we end up in a ditch....a fucking ditch! after i realized i was a live i remember OMG i have a show and Grahm is going to kill me
you would be surprised what fear can do to you---
So me and this girl named Sarah and this other guy decide to hitchhike
--yeah.. thumbs out and everything
because the CAA wouldn't come and to get another car would take 4 hours--it was already almost 6pm...and missing the show wasnt an option
we get picked up by some guy Named AJ....who runs an alone business (something like high end play boy soft porn or something like that) we drove all the way to Prescot bumping west coast 90's hip hop
he couldnt drive us further than prescot so we got out at the Timhortins...where we made MONTREAL signs with our eye liner--changed and freshened up in the bathroom and got back on the high way with our thumbs out--
at this point its 10 pm im fucking freezing and every car and truck is wizzing by us...we even tried waving 20's to show we weren't poor crack whoars !
that didnt work...eventually an OPP car showed up and he drove us to the station where he then got another car to drive us up to Marsborow (where the fuck is marsborow!!!!!) eventually one of the owner of coda came to get us from there...
wtf right-- WTF!!!!
i get into coda and i just start downing a bottle of vodka...and you know what the show was fucking AMAZING...
everyone knew the words...everyone was super excited and i got plenty of its ok isis your here hugs...
so in the end...i guess it was all worth it...all of that crazy shit was worth it--cus nothing beats being on stage....NOTHING...
so to get on stage i will hitchhike to the venue..i will not punch OPP cops for taking their sweet fucking time to get us to marsborow...i wll not throw rocks at the fuckers who drove past us...and i will bye Sarah a helicopter when im rich and famous...
But hold on..its not over yet-- the ride back to toronto...
was an over night one...no this time i took the bus...good old reliable bus....
at about 3am i woke up and there was this drunk smelly guy siiting next to me...i was like "whoa wtf who are you...whats going on"
he was like "i need to know where we are"-- i was like
"muther fuker do i look like the bus driver"
he repeated himself..where are we
i said straight up-- dude go back to your seat please...
he didnt listen...now you know after my ordeal im only entitled to use force...
i got him up he then fell back down on my foot...i pushed him on the floor..and siad
OUT OF EVERYONE ON THIS FUCKING BUS WHY ME..WHY FUCKING ME!!!!
he dropped a gang of garbage and then eventually went back to his seat when he realized that i had been through enough to kill him and not think twice about it..
but you know after that- the bus arrived a hour and a half early...
so i guess its all good...
i guess all of that just makes you take a page out of the Cer-lo song "Right Now" dont worry about tomorrow ....how you feel right now"
and dont worry about yesterday...if everything ok right now
Im ready for anything after this...ANYTHING!!
TONIGHT WILL BE EPIC...BUT i will walk to Drake..its just safer....