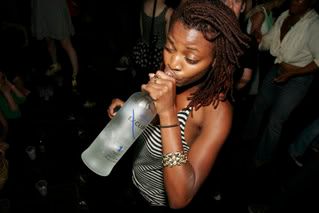 Haha...
Someone recently asked me if i had really moved from Grey Goose to Patron...
Well first of all..i mainly drank Belvi-- grey goose i used in my raps because it was a two syllable word...true story lol
A little rap 101 for you guys out there...its not just the words you use its the amount of syllables and even the pronunciation ...For example
Got a bottle full of bub
pettles in the pub
if he misses this date
ill cut his grapes
and escape to cuba for a date
and back rub
see what i did there....haha
its actually an underrated art form, for those of us who have been doing it way before the club rap scene popped off-- more on that later kids.
anyway-- no i have not left the wonderful world of chilled vodka, however i am currently seeing Patron on a more frequent basis...im sure Belvi will understand--
people, like their favorite drinks--sometimes just grow apart
Here is a short list of the quickest ways to get drunk...more so bang for bucks...
Isis Top 5 Favorite Drinks mixes:
5. 3 Creemors + 2 shots of vodka (any vodka will do)
4. 4 red bulls + 1 mickey of vodka
3. 2 gin and tonics + 1 creemore + 1 shot of tequila
2. 2 pints of Creemor + double whiskey on the rocks
1. any hard liqueur drink you get --ask them to leave out the ice and then order a beer
You will be well on your way to saving money and being tipsy enough to dance like you got rhythm and if your a girl -- this is a great way to start up the night before the guys start buying you drinks with the hopes of a hand job..and depending on the price of the shots maybe even some action in the corner stall of the ladies room...
lol
NOTE: Creemor can be substituted for whatever beer you like...the cheaper the better-- something about the chemical balance between cheap beer and expensive liquor does something to your MINDDDDD!!!
lol
cheers!